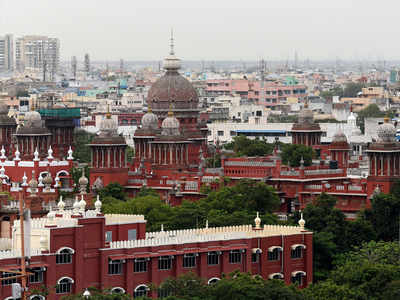 In a strong message against the practice of bonded labour, the

Madras high

court

on Tuesday sentenced a rice mill owner to three-year rigorous imprisonment for holding seven workers, including three women, under bondage in his mill.

Justice P

Velmurugan

also directed the accused, M Selvakumar, of Kancheepuram district to pay 50,000 compensation to each of the seven victims rescued in March 2006.
Acting on an appeal filed by R Manjula, one of the rescued, against the acquittal of Selvakumar by the Kancheepuram principal sessions court, the HC ordered the Kancheepuram police to immediately lodge Selvakumar in prison under the Bonded Labour System (Abolition) Act of 1976. Manjula was 18 when she was rescued.
On Tuesday, when the appeal was listed for ordering sentence, Selvakumar denied the allegations.

Activists hope verdict will act as deterrent Selvakumar denied committing the offence, and said he neither did he live there nor did he own the mill. Claiming that his wife was diabetic and he had two children to take care of, he prayed to the court to acquit him or at least factor in the jail term already undergone. The court rejected his plea. Explaining the order, Manjula's counsel David Sunder Singh said, "The court has taken a stand that the release certificate issued by the RDO itself is crucial evidence to prove that the family were held under bondage." Testimony of the victim also strengthens the case, besides the RDO was also one of the eyewitnesses that proved the case beyond doubt. "This is the highest sentence awarded by HC in bonded labour system (abolition) act," he said.

Manjula and her in-laws had worked for seven years at the mill for taking an advance of around
₹
3,000 each. They were paid
₹
20 per day and not allowed to move out. They were also physically assaulted and verbally abused, said the advocate citing the testimony of a victim. The victims belonging to three families were rescued on March 3, 2006. Of the 10, the official distributed release certificates to seven along with financial aid as per the government norms.

After investigation, police filed the chargesheet in February 2007. The trial lasted nearly 5 years. While the case was on trial, N Murugesan, father of Selvakumar, died. After the lower court acquitted the accused in July 2012, citing inadequate evidence, Manjula approached the HC.Activists welcomed the court verdict under the act and said it would go a long way in fighting the menace still rampant in several parts of the state.

In Tamil Nadu, more than 3,090 bonded labourers were rescued from 217 units since May 2016. But, only a few cases reached the trial stage. "We are hoping the judgment will set a precedent in bonded labourer cases. It will ensure that those engaging people as bonded labourers will not go scot free," said an activist preferring anonymity.